July 23rd, 24th and 25th.
Day 1 : 23rd July - Friday
After a lot of dilly-dallying, Ashok, Srini and myself zeroed on Kudremukh for our trekking aspirations ! Wrong season though...but fools we are with a big heart. Friday was an off for us thanks to our shifting from the ITPL office to the new facilty, Secon. Closer to campus,
this place robs us of the incentives...The ITPL MALL and its maals !!! :) Newyaz, we three buccaneers started early morning on 23rd July. Theres a direct bus to Kudremukh from Bangalore at 9:30 am...Since we were at the bus stand at 6:30, We took a bus to Hassan plying on NH 48. This highway connects Bangalore with Mangalore.We started at 7 and reached at
exact 11. Pleasant ride...We managed to catch some sleep, thanks to the comfortable reclining seats of RajHansa. These buses are real value for money. I havent come across such comfy buses anywhere in India. Fare : Hassan to Bangalore - Rs 108
In the bus, a gentleman advised us to visit Halebid and Belur to visit the famous Shiv and Vishnu temples built by the Hoysala Dynasty in 12th Century AD.It made sense as we were not sure of our return route. Halebid is just 45 minutes from Hassan. We made quick enquires at the bus stand and boarded a red dabba ksrtc bus. Halebid which has the shiv temple is a small village wheras Belur (vishnu temple)is a town. The sculptures at both these heritage sites are simply mindboggling. The archaelogical survey of India has maintained these sites very well. The guides at these temples are also well informed and their services are value for money. At Halebid, the guide charged us 60 Rs whereas at Belur the charge was 75 Rs.
'Hoy'means kill and 'sala'is the name of the boy (originator of the dynasty) who killed a lion which attacked his gurukul. His guru gave him this name. These temples were built in 1117 AD. Muslim Invaders (Khilji) ruined many sculptures of the Halebid Shiv Temple. Not in the case of Belur...On hearing that the invaders are on their way, the inhabitants of Belur buried the temple in Sand !! It remained this way for 12 years until it was discovered. Same with Somnathpur
temple, which we did not visit. This temple is said to be the most beautiful of the lot !! The sculptures of these temples depict various episodes of our epic stories, Ramanayana and ahabharata. Arjun aiming at the bird's eye, Krishna lifting the mountain to protect his people from the heavy rain, Bheesma lying on arrow tips, etc. Elephants, dancers, common folk, lions etc all depicted in various moods. Just below the top are many sculptures on slabs of soap stone. These are masterpieces. Below are some pictures...We left the sites in a daze. Belur---Halebid - 16 Kms, 30 minutes journey.
From Belur theres a direct bus to KMukh at 15:30. We just missed it and hence had to decide bewteen going to Mudigere or Chikmagalur or Kalasa (Connecting points to Kmukh). A bus for Chikmagalur was leaving and we jumped in. Took us an 90 minutes or so. From CM we went to BalleHunnur as there was no direct bus to Kalasa. Kalasa is the closest place to Kmukh where one can find decent accomodation and food. CM - Bhunnur = 1 Hr and Bhunnur to Kalasa = 1 Hr. We reached Kalasa at 21:30. Found Yatri Lodge (There are 3-4 decent lodges at Kalasa). Room rent/day:Rs 225 (TV bhi tha !), extra bed:Rs 25 and 24 hrs checkout time.Slept like a log, but had to wake up early next day to begin our trek !!
Day 2: July 24th, Friday
'Leech and let leech'
Awake and ready by 7, we had breafast at the restaurant adjacent to our lodge. The manager offered to pack some idlis and lemon rice for our lunch. We stuffed our bags with some clothes, food, camera, torch, binocluars and a towel. 6 other trekkers who boarded the same bus, were planning to pursue a two day trek with an overnight stay at Lobos. Let me explain the trail:
The peak is a good 15-20 kms from the base (not exactly sure). It is a good 8 hours from the base. Here base means the road where the bus drops you. 8 hours only if you walk non stop, probably with a couple of 15 minutes breaks.phew !!! Hence junta make it a two day trek ! Again 8 hrs if u have a guide with you who will take you along short cuts and will also stop you from losing your life!! Some trails really make you wonder ' why god did I agree to do this trek ? ' !! :) And who can sideline the main actors, LEECHES....they are waiting for us ! Stop by to pee someplace and if you forget to look down at your shoes, be rest assured that you will be donating blood soon ! They cling on to your shoes, and slowly cling on to your feet. And you wont even know ! With all the heavy equipment on your shoulders and the effort to save your life from slippery stones, losing blood to the segmented worms wont cross your mind for a long time. :(

This is the wrong season, I Must admit. Rains slashing on your face all the time makes it hard to proceed. We just stopped short of the peak by a few kilometers. But the peak is simply amazing. Standing on top of it and gazing at the world beneath must be a entralling experience. I plan to go back in October/Nov which is the right time.
Coming back to the trail, once u start walking, you will come across a bridge which will scare you to death. Dont look down !! The water from the peaks will be gushing at full spead beneath you. And dont have a heavy breakfast as well. Below is a picture of us crossing it...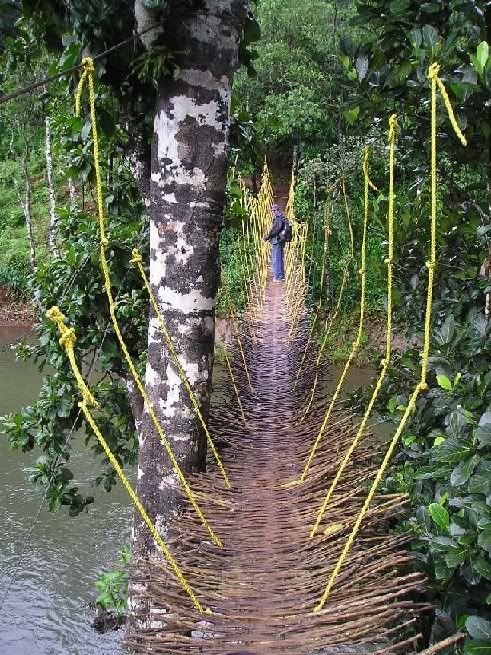 Children use it daily to go to school !!! Yes, the school is on the way. Two hours walk from the base..On our way, we met some children ...they walk 4 hours daily (two way) to go to school !!!! With no footwear !!! Once we reached it (10:30 am, we started at 8 am and walked non stop), we met Shankara. He invited us to his house where his wife served us coffee, milkless, but refreshing. He accompanies trekkers to the peak and has done it on many occasions. We took snaps of his family with a digital camera. They were ecstatic looking at the pictures.
Newayz, Shankara agreed to accompany us to the peak.We decided to stay overnight at his place and head back to Kalasa next morning.His wife would cook dinner for us once we come back. He also treated us to the sweetest jackfruit I had ever eaten. We ate some and packed the rest for later. The next stop was Lobos which has a few houses and the forest office where one has to take a pass to go to the peak. 80 rs / pass !!
Starting at 11,we were expected to reach Lobos by 12. Slight drizzles along the way. The path was not easy, muddy and slippery. We stopped at a spot to eat the jackfruit remains. That spot was simply heavenly. We were at the edge of a small peak, under a glorius berry tree. Clouds hiding the peaks for a brief moment, and slowly moving with the breeze allowing us to see the the majestic expanse and the greenery around; made us fall in love at first sight.
We stopped at a small hut, and to srini's dismay, he found leeches all over his shoes, ready to strike ! It was a comic sight with srini howling and bashing his shoes on stones. Shankara was nudging us to continue walking, but srini wouldnt have any of it. He was busy figthing them...man to... ummm...leech !!
After cleansing himself :), we re-started our journey. Soon came the forest office (which is a small hut), officiated by two men. After taking our passes, we trudged along following our able guide Shankara. He simply sailed through the rough terrain on bare foot. On some occasions, he was way ahead of us !! He was also carrying our Knapsack !! Occasionally small waterfalls greeted us. A few monkeys were seen, but apart from them and the villager's cattle, we did not come across any other creature. Heavy rains soon and we were totally drenched. The Human body has 70 % water...but our wet clothes made it 170 %. We also had too cross the river, waist high deep and very cold.
We walked and walked (climed and climbed) with our feet cold and numb and paining like hell !! and finally stoped a few kms short of the horse (kudre) faced peak. At first we could not see it , but as the cloud cover dissapeared unveiling the magnificent peak we gasped ! Staring at it, all wet and rainwater dripping on our faces, we thanked god for taking us so far, safe and sound and for creating such spectacles for mere mortals to admire.
Getting down seemed more arduous than climbing. A freak accident occurred on our way back. A huge tree trunk was on our path ,a 7 feet above the ground. I did not see it as I had covered my head with a plastic cover and of which some part was blocking my sight. I hit my head on this trunk and the impact was so much, that I fell on the ground on my back ,unconscious for a few seconds. Shankara was ahead and looking back at me, he quickly came rushing to check. Thats when it happened...he slipped and fell on the wrong side of the trail, sliding down the slope. He would have fell deep down, but for me quickly regaining consciousness and pulling him back holding his outstretched hands. I could see fear in his eyes as he was sliding down ! After we managed to sit down,safe, shankara was in a state of shock. Never in his entire life that he spent in this wilderness did he ever experience a near-death experience. I was feeling a bit guilty for being careless and not seeing the tree trunk. I quickly checked my temple to see if there was a bump or blood. Nothing !! Thanks to the lord, bot of us were safe. Srini and Ashok were far behind us and hence couldnt see what exactly happened.
Finally at 17:30 we reached Shankaras' house. Dirty, Leech Bitten or should i say smitten ( Ashok and I had been Leeched 4 times, thrice on the foot and once on the face), tired, hungry,thirsty and wet....relaxed and changed into warm clothes at shankara's humble abode. We had a cup of coffee.Shankara gave me his address. Anybody wishing to visit this place can write to him a week in advance stating the date of visit and the number of people expected. He will arrange for food and shelter....but you should be sure that you are going !! His address is:
M.L.Shankar, Mullodi, Thotadamane, Samse Post, Mudigere Taluk, Pin: 577124, Karnataka.
Oct/Nov is a great time to go. After rains the place becomes more beautiful and one can see some wildlife too. Birds for sure ! We were a bit dejected that we could not reach the top of Kudremukh, but nevertheless were enamoured with the place and the adventure. After bidding goodbye and handing over some money to Shankara for his valuable services, we headed back to the base. We decided against spending the night at Shankara's place as there was enough light to walk back and could catch the 19:30 bus back to Kalasa.
We limped our way back to the lodge after alighting from the bus, much to the amusement of the localites. Savlon and Soframycin from the medical shop....the leech bites look like snake bites....had dinner and slept, hoping to see another day !!
Day 3: July 25th, sunday
We took a direct bus from Kalasa to Hassan and then From Hassan to Bangalore !