Trip to Hogennakal Falls, total 385 kms
(to and fro).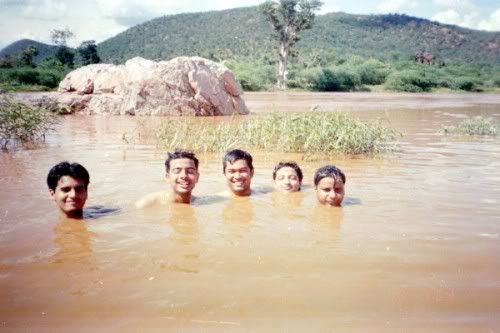 This picturesque picnic spot is about 183 km. from Bangalore via Dharmapuri.
Hoggenu (smoke in kannada) and Kallu (Rock) combine to form a mesmerising display of gushing water falling on intrepid rocks ! The cauvery in all its splendid glory ! From Bangalore towards Salem on the NH7-NH4 highway, the ride to the place is a pleasant one. The NH7 is a treat. NH4 sometimes let us down with a few potholes.
7 buccaneers,
Ashutosh, Ruchir, Vishal, Kathik, Prakash, Anshuman and Vivek
(pari) packed our bags and set out on a fresh saturday morning (10th July, 2004). We had rented a Qualis (rate card and other expenses listed later). On our way we stopped at Udupi Sagar (one of the umpteen sagars that grace bangalore and surroundings) for
breakfast. Neat place. Just beside it was another Sagar, but a unique one. It served only 'NON - VEG'. Couldnt think of any 'Sagar' hotel serving only non veg.
Newayz,we reached the spot at 12 pm and as expected were swarmed with lungi clad locals offering us boat rides. But first we had to grab some grub. There were a couple of decent eating places, and both of them had ' HIGH CLASS' as a suffix to their names :) On the menu: dosas, idlis,omlettes,meal and fish curry. Most of us ordered two rounds of Onion Dosa. Round one of negotiations begun. A whopping 750 Rs/Boat/3 hrs was the first quote. After a lot of bickering we got
fleeced
at 900/2 boats/3 hrs.
Since there were 7 of us, it felt ok.
These boats are circular basket ones covered in buffalo hide or plastic. These are not nearly as flimsy as they look and their design has remained unchanged for thousands of years, though the plastic covering is a recent development. They can hold a max of 5 people comfortably.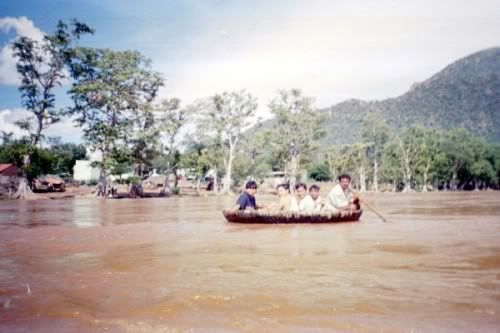 The water was brown. Taking all it can from mysore the cauvery was plunging deep and making a sound that only nature can create.
Karthik, Lala and Ruchir had signed up for a massage. 50 bucks/massage. It was a funny sight with lala being the chosen one. The masseur had his hands all over lala and both seemed to enjoy their intimate moments. We managed to take a few snaps and hopefully they will come out well ! :) One suggestion here is to carry some towels/cloth to prevent the oil from entering ones eyes. And soon we plunged into the river, naked ! Do carry a bathing soap to remove the oil.
Everywhere you will be asked to take tokens !! Just before our boat ride, we had a take tickets worth 100 Rs. Then there are tickets for bathing under the main falls. Theres a ticket for crossing a bridge, for taking ur camera,etc etc. So carry some cash even if you are in your undies !
Separate enclosures have been built for men and women to bathe under the falls.
After some exploration we returned to our vehicle. The place doesnt have any great shopping articles/attractions.
On our way back the weather was simply amazing; pleasantly interrupted by short showers.
On the whole, the trip is a relaxing one. Choose any weekend till august and you wont be dissapointed.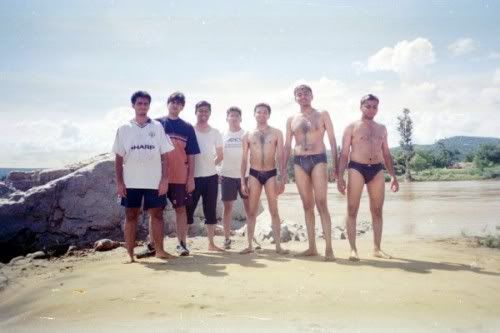 Basic Expenses Card:
Vehicle: 5.50 / km (qualis)
InterStarte Permit: 550 Rs
Passes/tickets: 150 - 200 (total)
Food (lunch at HIGH CLASS) - approx 150 for 7 people
Boat Ride: 450 / boat/3 hrs/4 people. This can be reduced to 250..or lower :)
Massage oil: 100 (for 3 people)
Messeur: 50 Rs (per person)